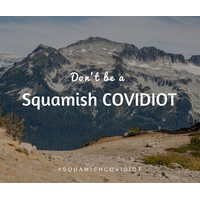 After consultation with the BC Snowmobile Federation and recommendations from the Provincial Health Authority, Rec Sites and Trails has asked us to cease operations on Brohm for the remainder of the season. We will not be selling any more day passes or doing membership checks as of today March 21, 2020. The cabins are locked as per usual but members and guests are reminded to keep your distance, wash hands frequently and use common sense. PLEASE PRACTICE SOCIAL DISTANCING AT ALL TIMES!! Trails are still open until further notice.
Message From Rec Sites & Trails
Re: Use of snowmobile, nordic skiing, and overnight and backcountry facilities within recreation sites and on recreation trails
Recreation Sites and Trails BC's (RSTBC) number one priority is the health and safety of British Columbians and visitors using recreation sites and trails across the province. RSTBC is following the advice of the Provincial Health Officer and is taking steps to support the Province of British Columbia in its effort to limit the spread of COVID-19.
Effective immediately, recreation facilities where there is a risk of increased social contact, contact with frequently touched surfaces, and/or where monies are exchanged will be closed. Such measures are in line with direction from the provincial health officer and are for the safety of our partners, volunteers, staff and visitors. Closures will apply to overnight shelters, backcountry cabins, day use shelters, fee collection booths and some infrastructure typically used by snowmobile, nordic ski, mountain bike and hiking groups. Additional facility closures may be considered by RSTBC in the future.
Where access to overnight shelters or day use facilities is required due to an immediate safety concern (i.e., accident or injury requiring immediate and local assistance) access to those facilities will not be prohibited.
Trails will remain open and may not be groomed or maintained during this time. Users assume all risks by continuing to use trails and are discouraged from taking unnecessary risks to avoid burdening health services.
RSTBC acknowledges that these measures may result in operational and financial uncertainty for our agreement holders and other operators. RSTBC will continue to monitor the situation and communicate regularly. District recreation staff will be in contact in the near term with additional information.
For service updates and information on facilities and recreation spaces that are closed please continue to visit the RSTBC website and Facebook page.
Tennessee Trent – A/Director
Ministry of Forests Lands Natural
Resource Operations and Rural Development
Recreation Sites and Trails BC
---